Fantastic Results from Malawi Population-Based HIV Impact Assessment (MPHIA)
Lilongwe, 2nd December 2016
As the world commemorated World AIDS Day yesterday, it is time for Malawi to celebrate some of the

truly fantastic achievements

we have just seen confirmed in the Malawi Population-Based Impact Assessment (MPHIA 2016). The MPHIA was conducted between November 2015 and August 2016 as a nationally representative household survey, involving HIV testing for more than 17,000 adults and over 6,000 children.
Preliminary results from the MPHIA, focusing mainly on the results from the adult population, are summarized in the following

fact sheet

. These empirical population estimates are

remarkably consistent with our national program data

for the HIV treatment cascade. The small differences we see in this direct comparison of survey estimates vs. program data are explained by the conservative approach we use for estimating the 'first 90' based on the number of people actually enrolled and retained in care. This is clearly an underestimate for the number of PLHIV who know their status, which seems to be confirmed by the MPHIA results.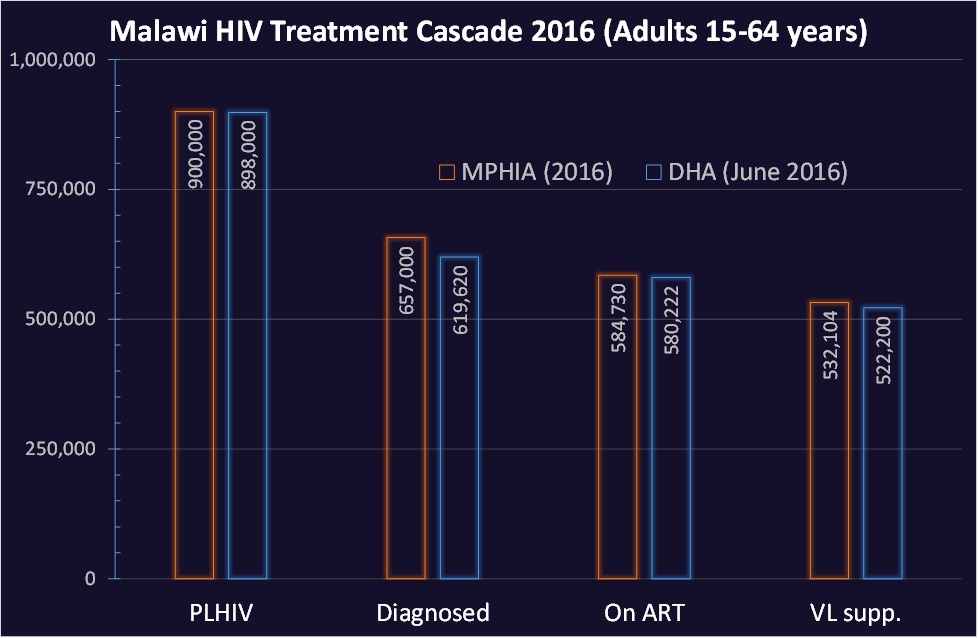 The MPHIA results confirm that Malawi is

well on track to achieve the 90-90-90 targets by 2020

.
The

low level of adult HIV incidence

, which was directly measured in the survey, show that Malawi's National Strategy has truly led us to a turning point in our fight against HIV.
We are looking forward to sharing more detailed results from the MPHIA as they become available early next year.
We would like to thank our partners for the amazing support that has made these results possible.